Castle Rock Club
"If happiness is the goal – and it should be,
then adventures should be top priority." – Richard Branson
Have you heard about the Municipality of Chester's newest gem?
It's called Castle Rock and we cordially invite you to experience it.  You can hike it, bike it or ride your ATV to the heights of East River, and once there the panoramic views across Mahone Bay are simply breathtaking.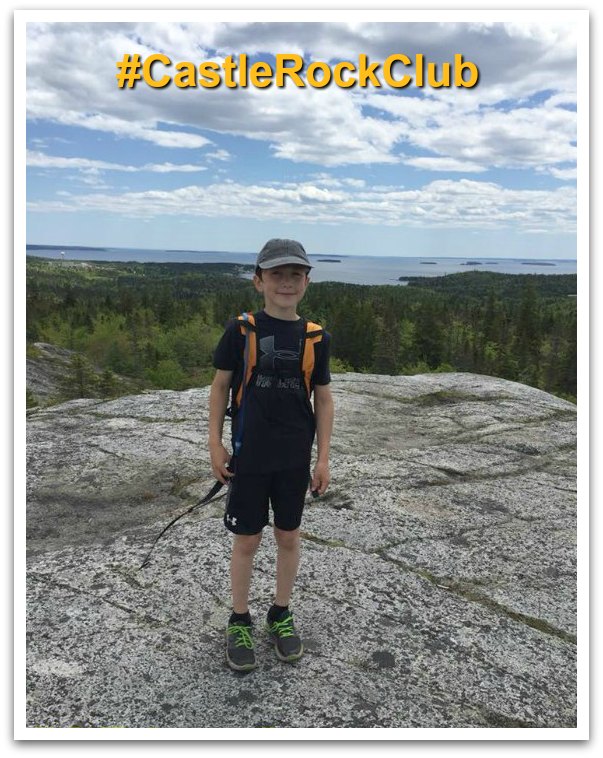 There are  3 different routes - easiest, moderate and most difficult - so that hikers of all levels can confidently say "I've got this."
You can download the Castle Rock map by clicking here.
We'd love to see how you make out so PLEASE tag us in your social media pics. 
Our hope is to fill this page with hundreds and hundreds of folks who can proudly declair "I did it! I climbed Castle Rock!"
Just hashtag your post with #CastleRockClub and tag us at @TourismChester and we'll get you in the mix.
Hey and cheers to Liam Hamm of Martin's River - our first official member!
Castle Rock Club

London (Golden Retriever), Grampy Martin Bell, with grandsons Lars Bell and Liam Bell of Fox Point made the climb.
"Grampy said he was taking us to a magic place and he was right" - Liam Bell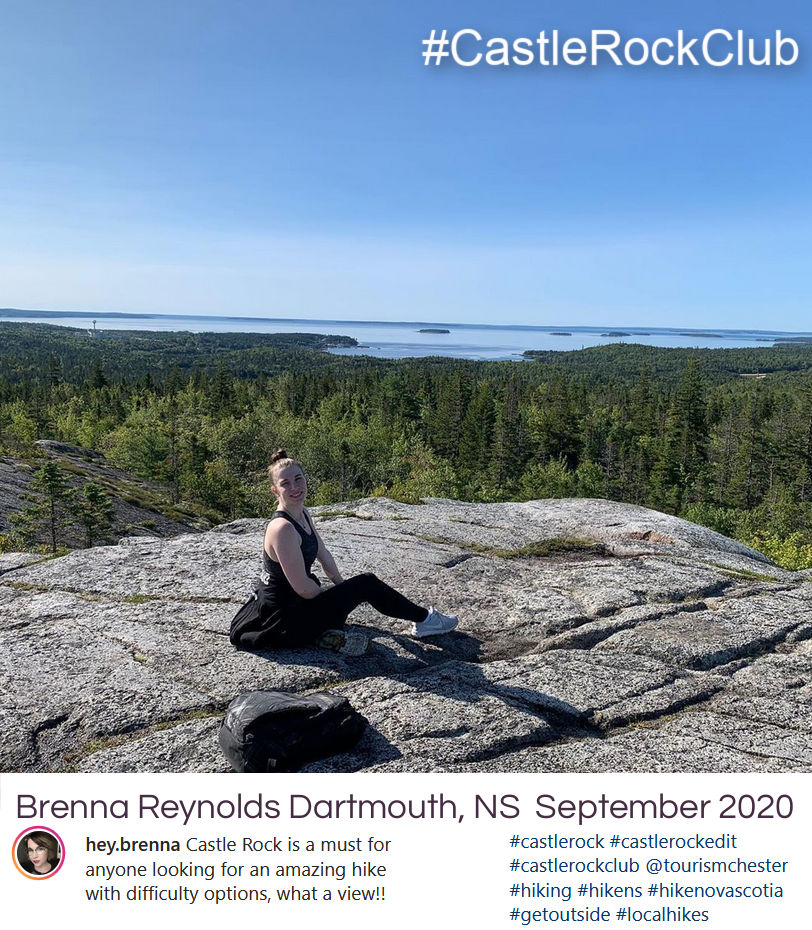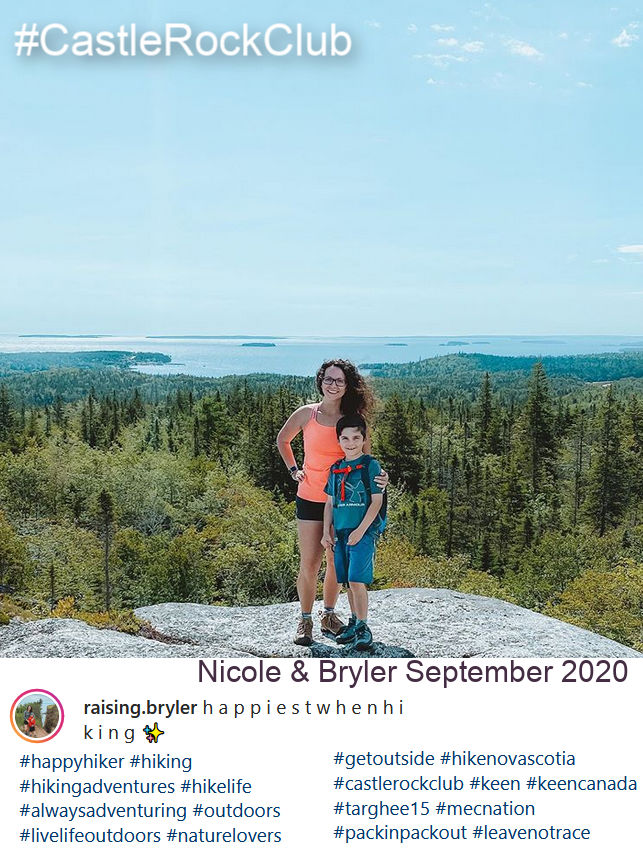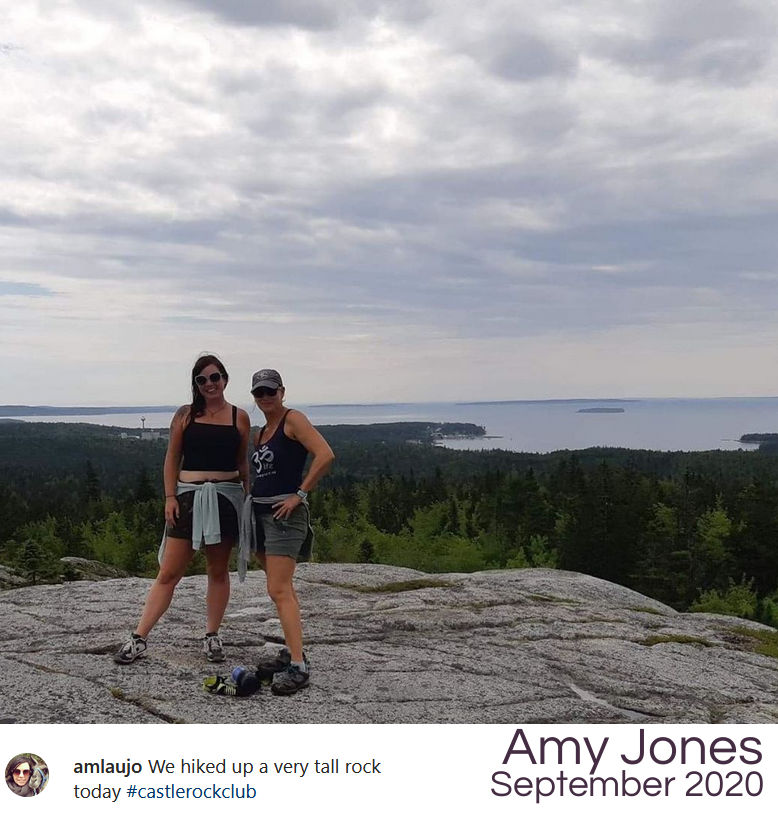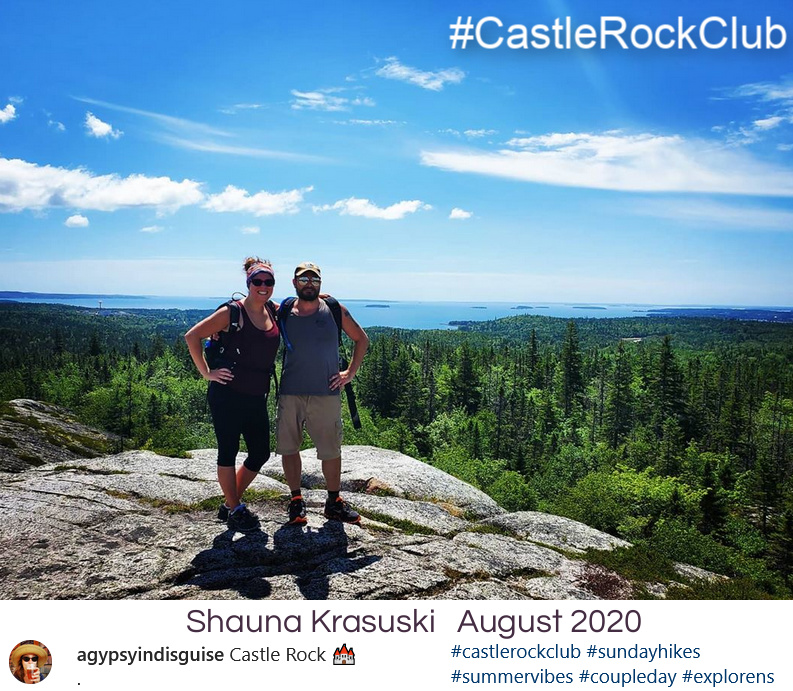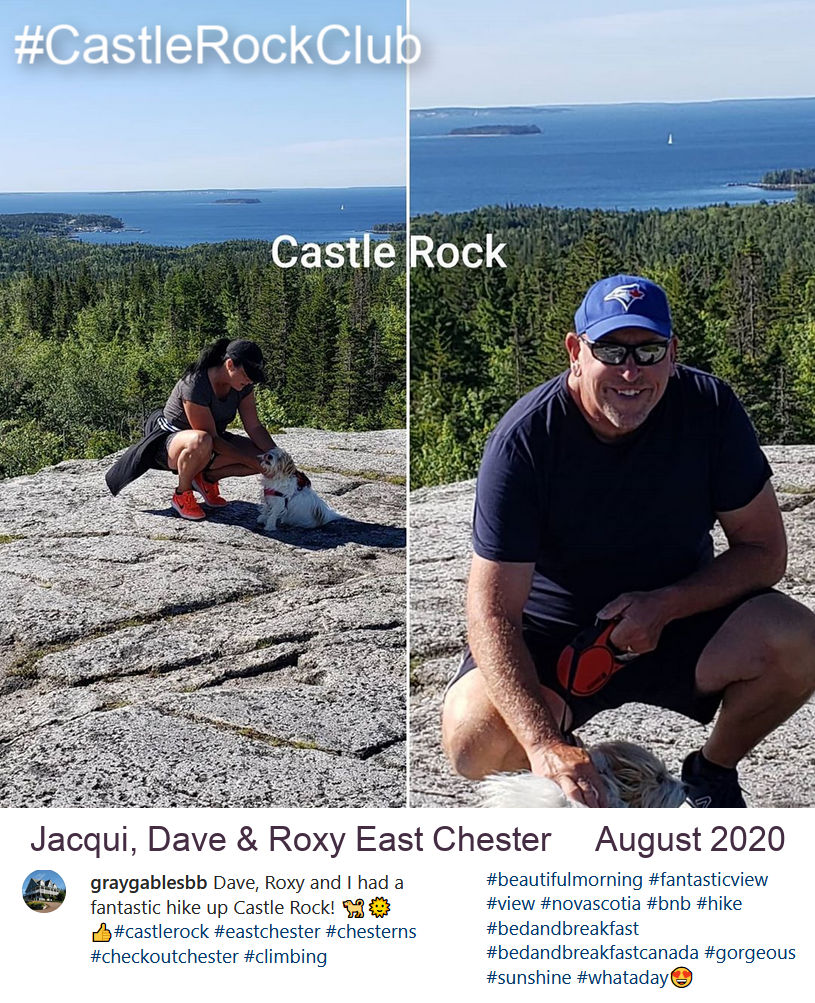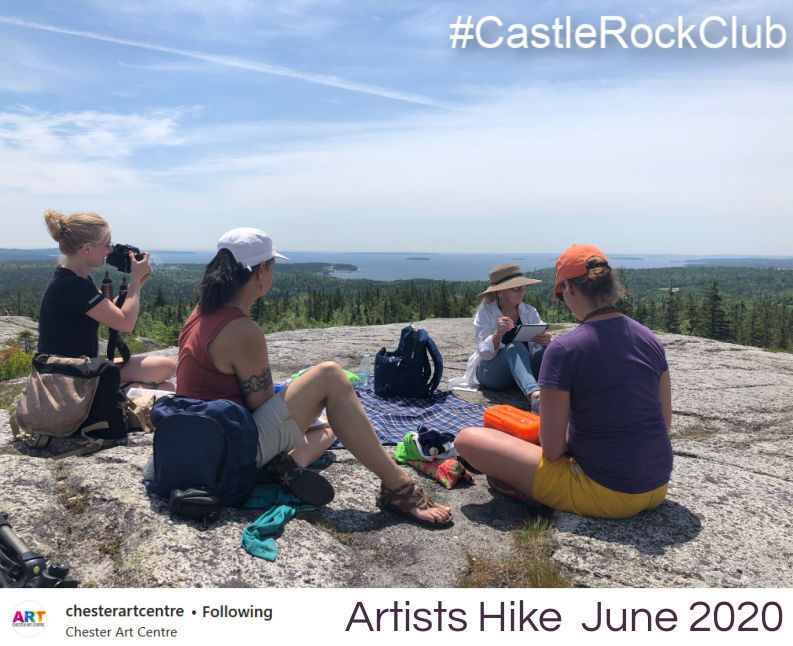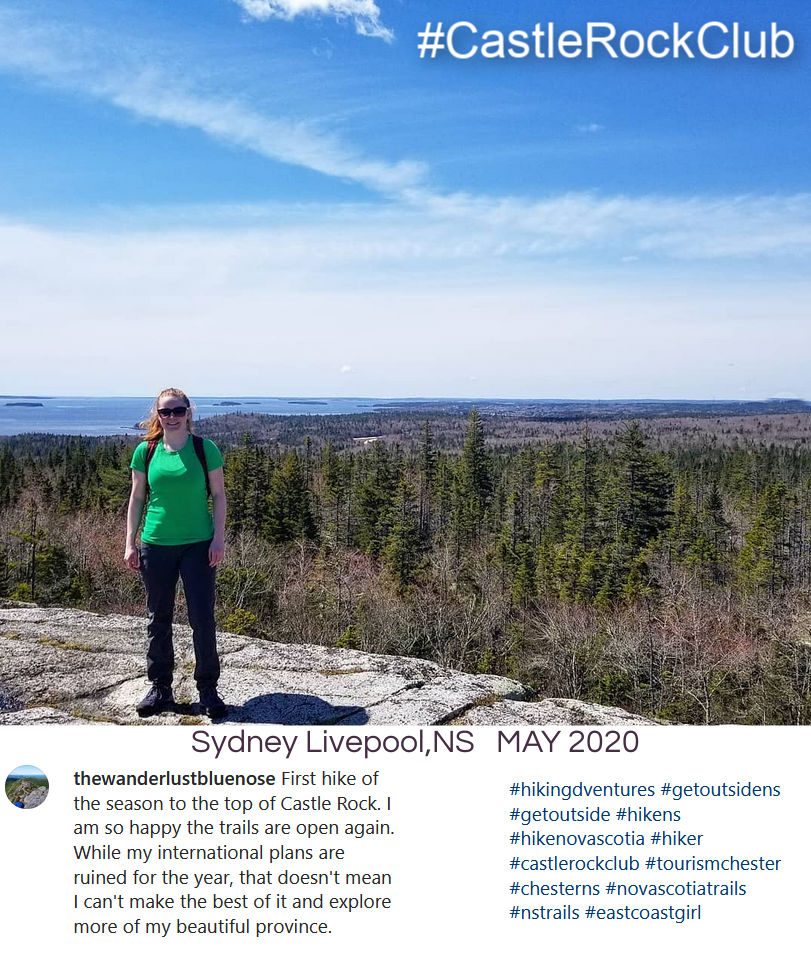 Poppy Margaret & her Mommy Laura Oickle - Timberlea, Nova Scotia
We're always saying that Castle Rock is a perfect climb for adventurers of every age - but we're pretty sure little Poppy Margaret now holds the title to our youngest! So happy to hear from her mommy Laura that everybody enjoyed the journey to up.
"My 3 month old, Poppy Margaret, and I took a hike up Castle Rock for the first time with my sister, nieces, and nephews once our 'bubble' opened up. What a beautiful view and a great time was had by all!" Laura Oickle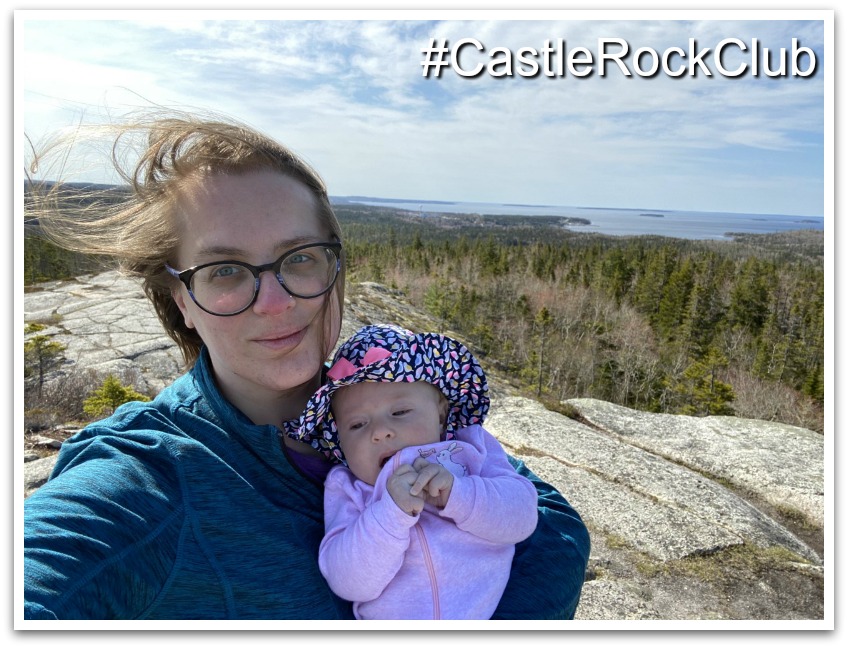 Thanks so much for sharing the sweet shot - so wonderful to welcome you both to the #CastleRockClub!!!

Bryler & His Mom Nicole - Halifax, Nova Scotia
March Break is the perfect time to make the climb, so we were very happy to hear that Bryler and his mom Nicole made their way to East Chester for their inaugural visit to Castle Rock...
​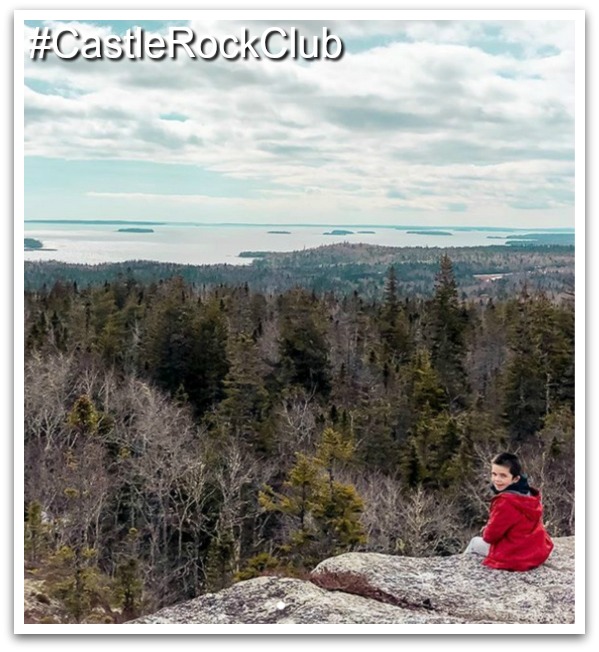 "We are from Halifax. It was our first time hiking Castle Rock - Bryler always chooses the more challenging route and loved taking the yellow trail! The hike was beautiful and the views were awesome! We will definitely be back!!!" Nicole (Bryler's Mom)
​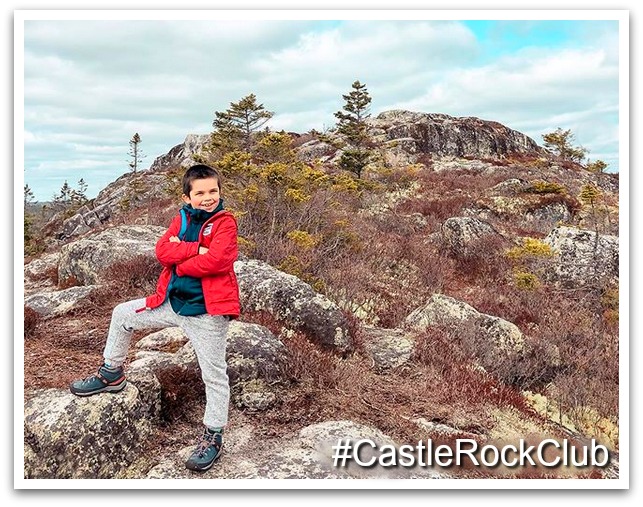 We'll look forward to your return and we welcome you both to the #CastleRockClub!!!

Chef Nathan Guggenheimer & Eggs - Western Shore, Nova Scotia
When he's not busy creating something dynamically delicious at the Oak Island Resort & Conference Centre, Chef Nathan and his little dog Eggs enjoy getting outdoors and exploring all there is to see and do here in the Municipality of Chester, so naturally climbing Castle Rock was HIGH on their priority list of adventures.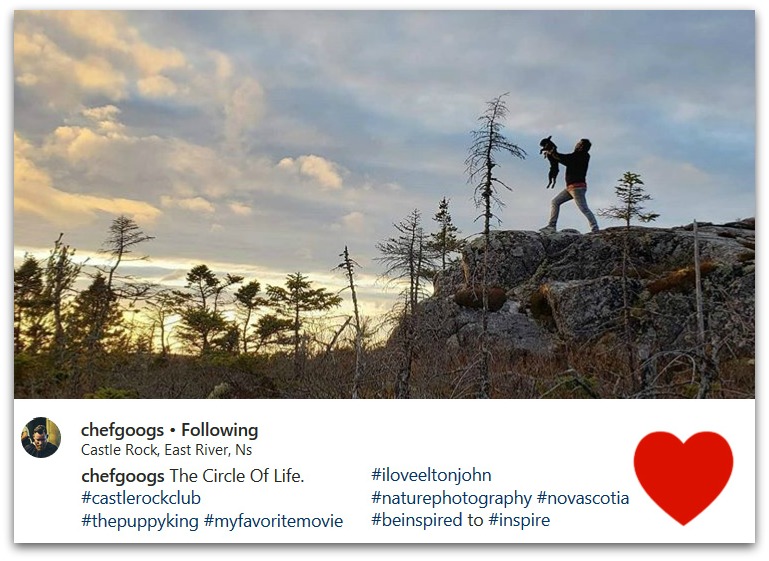 We sure loved getting this LION KING inspired post from the two of them via Instagram – a thing of true beauty. Welcome to the #CastleRockClub to you both!!!

Miguel Lacson & Cassidy Coombs - Kentville, Nova Scotia
We believe Castle Rock is a natural treasure to take in all year long - so naturally we were tickled to hear Miguel Lacson is setting his own 4 Season Goals...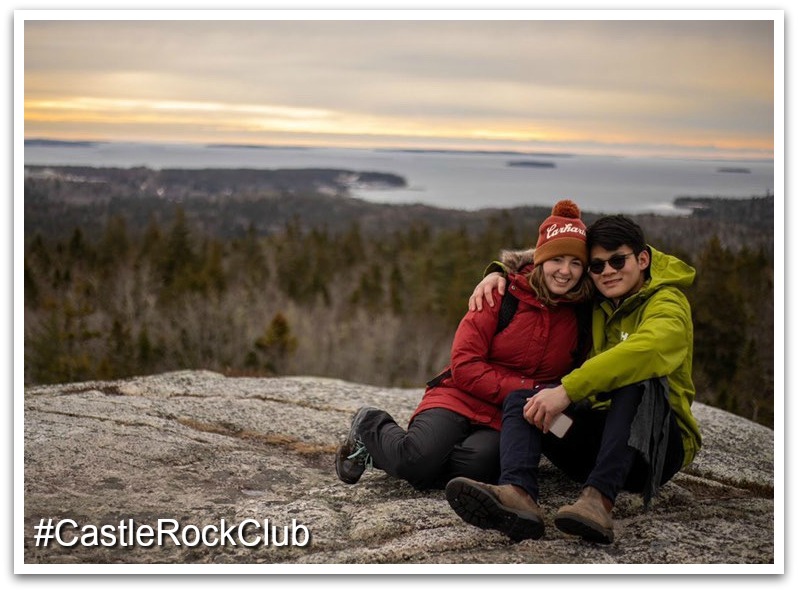 "We were lucky enough to experience Castle Rock for the second time except this time on December 29, 2019 - prior to that we went in the spring...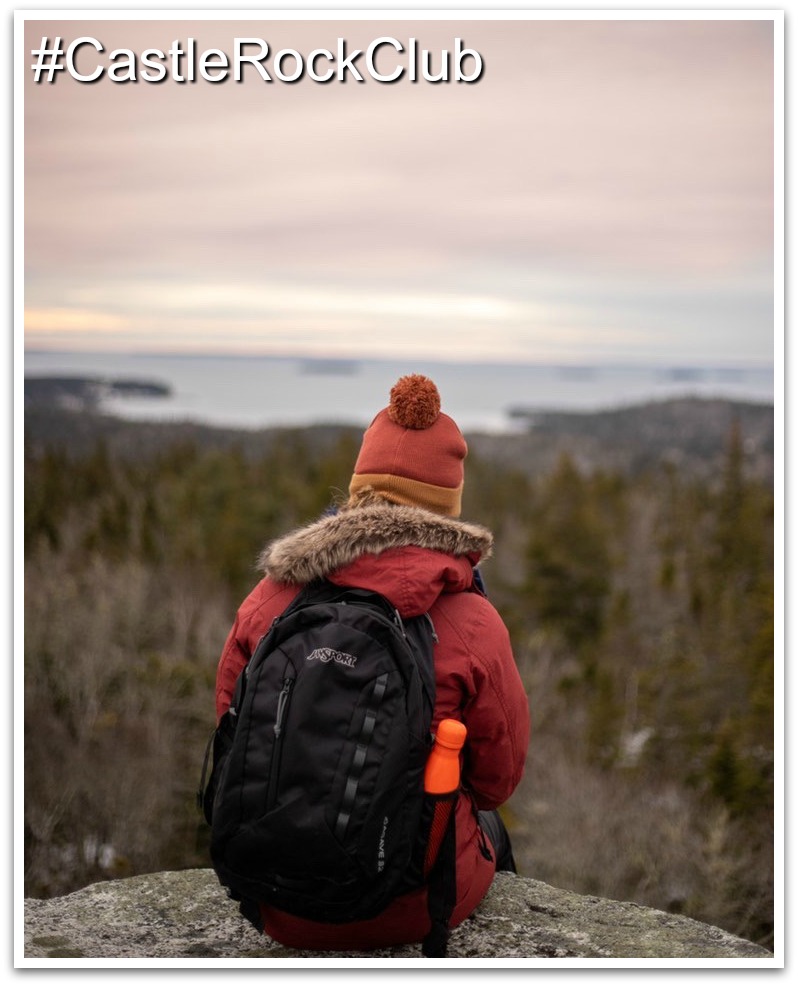 Castle Rock is our favourite spot and the weather was perfect that day for us to go on a hike.
We've visited in the winter and spring, now - summer and fall left to go!" Miguel Lacson
We'll look forward to seeing you then Miguel & Cassidy - in the meantime - welcome to the #CastleRockClub!!!

The Myra Family - Western Shore & Chester Basin, Nova Scotia
We believe holidays are the perfect time for family get-togethers so we loved hearing how Pam Myra and here family 'topped off' their Thanksgiving celebrations this year...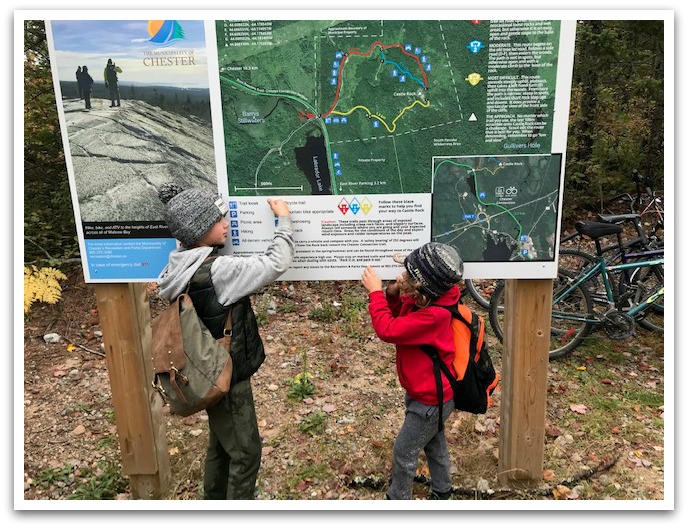 "Instead of a big turkey dinner for this year, we went for a hike and had a picnic on top of Castle Rock. It was the first time for my husband Bill and I, but my son Alex Myra, his wife Mallary and our grandsons Max (8) and Harry (5) have hiked it at least twice.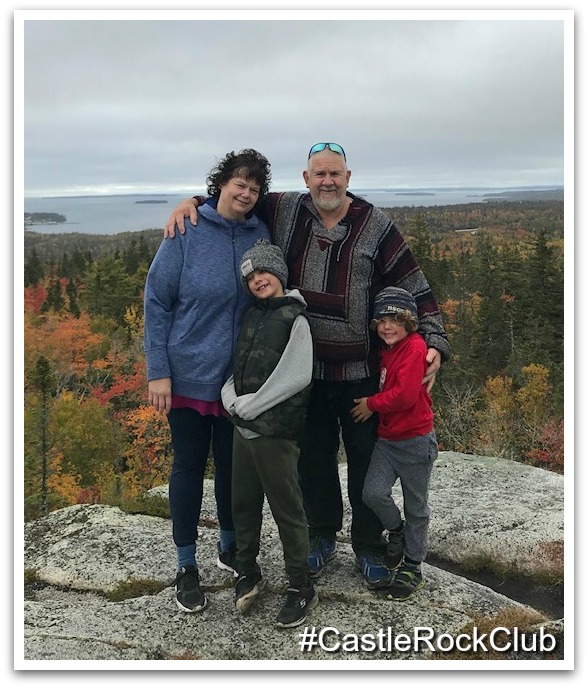 The boys were troopers and made the trek fun for all of us.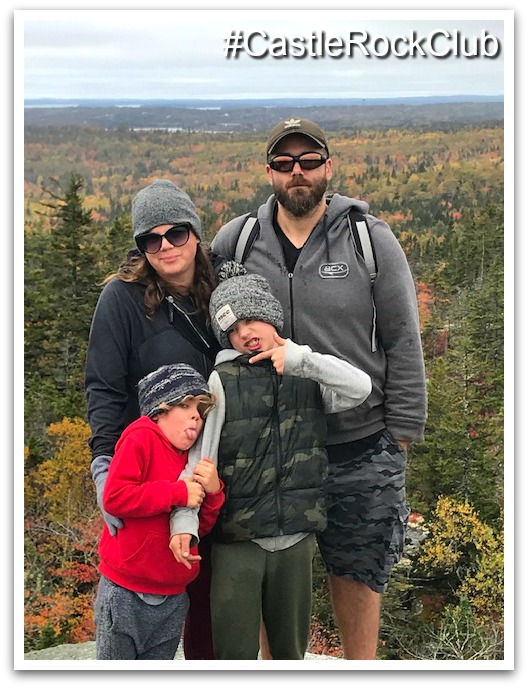 It is always a great adventure when they are with us!" Pam Myra
Now that's a Happy Thanksgiving!!! Thanks so much for sharing Pam and to the whole Myra Family... welcome to the #CastleRockClub

Matt Corkum - Halifax, Nova Scotia
"Hey Tourism Chester, we're in the #CastleRockClub. The first time, it started pouring and we got soaked at the summit...."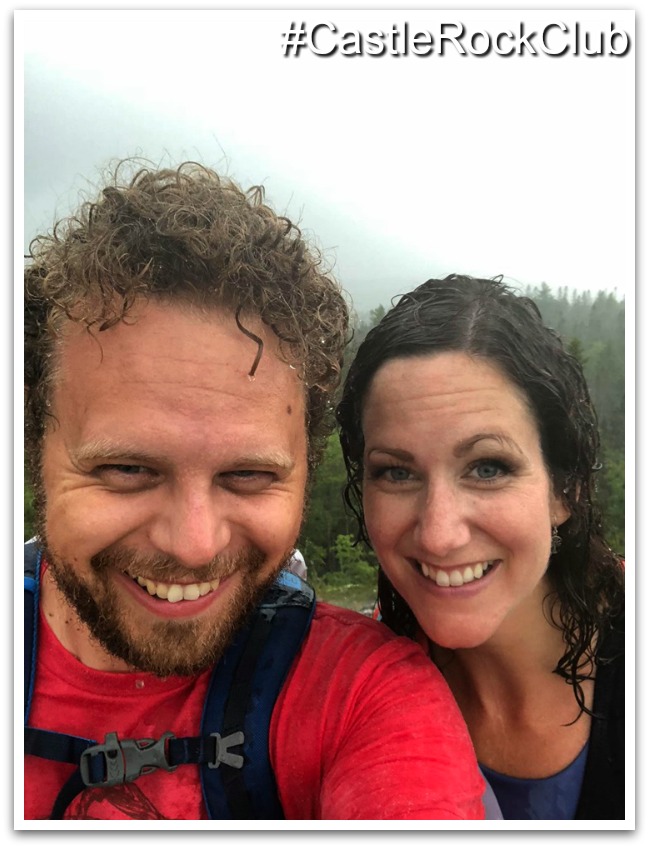 "...The second time, we brought baby!" Matt Corkum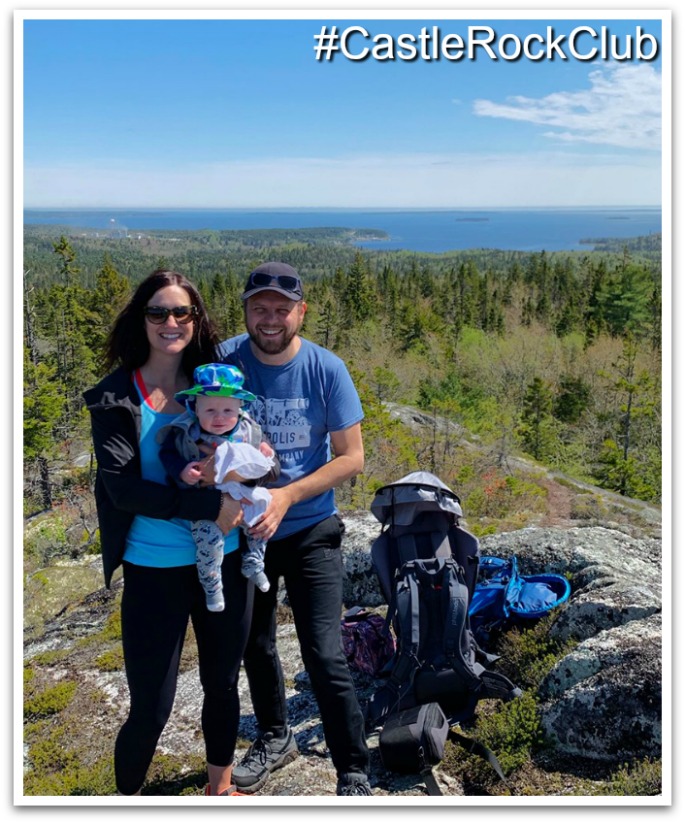 How about that super cool submission?! We loved getting these pics from Halifax based Matt Corkum.  Originally from East Chester and then the Village of Chester after that - Matt and his fiancée Jamie are avid climbers of Castle Rock.  Needless to say we are over the moon about adding their sweet son Lincoln to our ever growing group. 
We'll look forward to seeing little Lincoln growing UP on big Castle Rock - please promise you'll send us UP-dates (get it?!)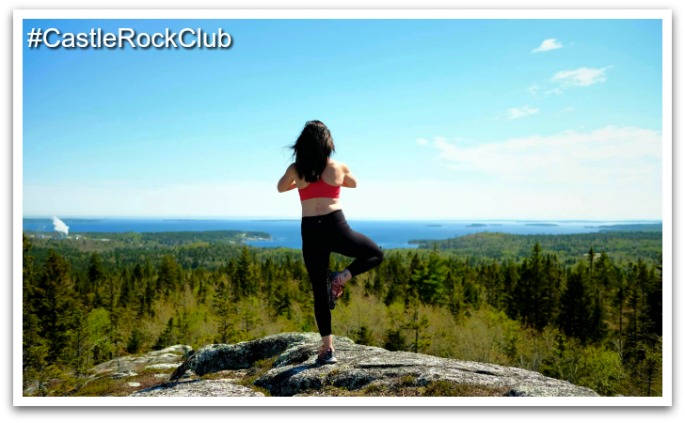 Truly grateful to you three for sharing all these awesome shots and a wonderful welcome to the #CastleRockClub! 

Janet Crosby Laganiere - Montreal, Quebec
"Thank you Chester for a great visit! Really enjoyed the bike trails and hike to Castle Rock...what a view!!!!"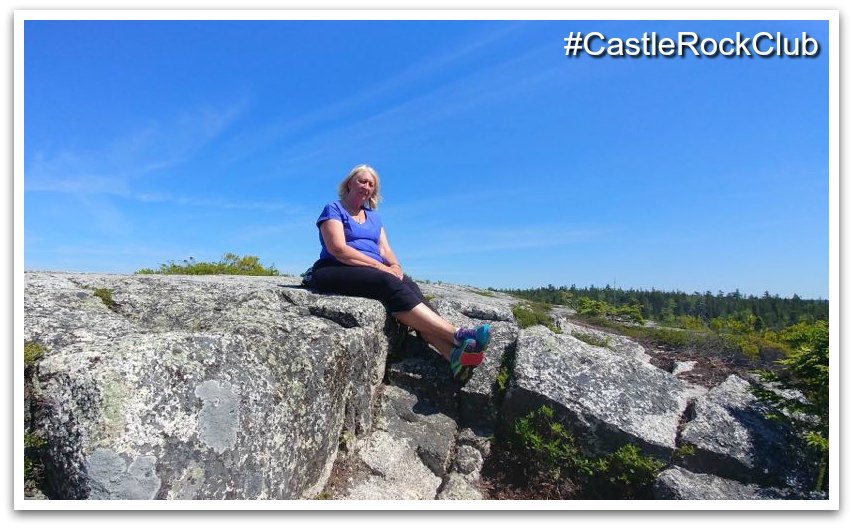 We were so happy to be there to meet Janet and her husband Michel during their visit to the Municipality of Chester, and we were thrilled to know that hiking Castle Rock was on their "Vacation To Do" list.  We made them promise to send us pictures from the top and so they did.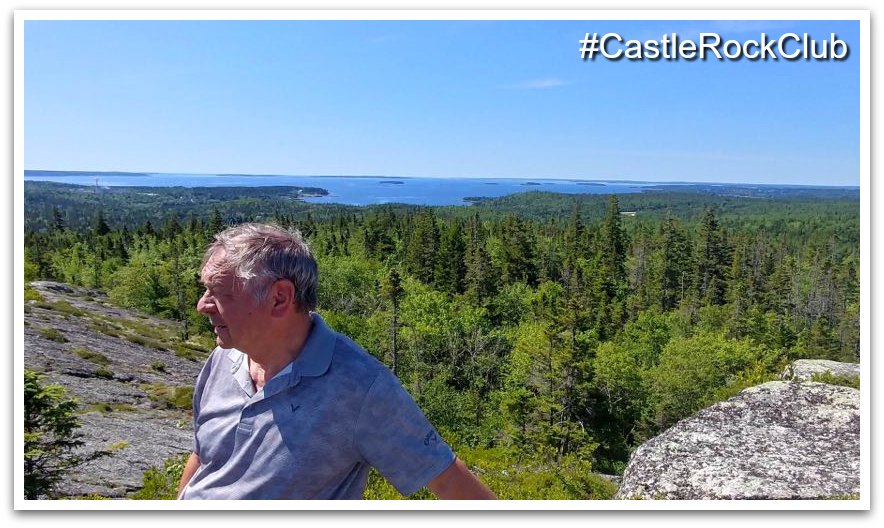 A truly grateful 'thank you' for sharing your adventures with us and a heartfelt welcome to the #CastleRockClub! Come back again soon!!!

HELENA JAHNKE (Germany) & CAROLINE GRANDCOLAS (France)
This is wonderful!!! We love that these two Forest Heights High School exchange students included a climb of Castle Rock in their Nova Scotian experience - and it's so truly cool that they sent in their glowing reviews of the experience in their native language (with English translation included).
Danke für die tolle Zeit und die Wanderung auf 'castle rock'. Wir hatten einen schönen Tag! Vielen Dank
(Thanks for this amazing time and the big walk to 'castle rock'. We had a beautiful day! Thank you)
Helena Jahnke Germany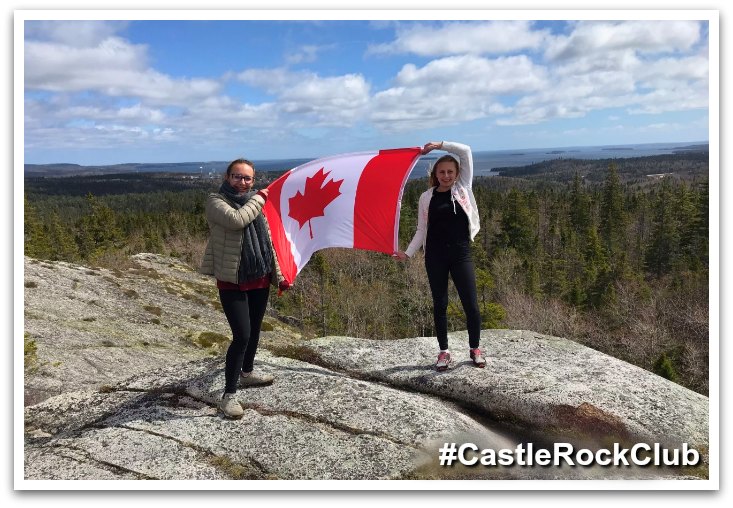 Merci,
La randonnée pour atteindre le "Castle Rock" était incroyable et la vue était magnifique. Je recommande pour tout le monde. Magnifique
Thanks
The hiking to hit the "Castle Rock" was amazing and the view was beautiful. I recommend for everyone. Beautiful
Caroline Grandcolas France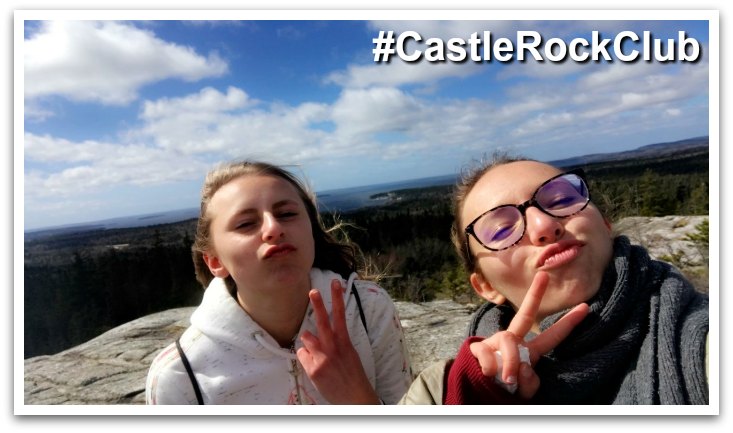 Vielen Dank/Merci/Thank you both so much.  Welcome to the #CastleRockClub ladies and PLEASE come back again soon!!!

2019 HIKING SUMMIT CREW 
We loved that HIke Nova Scotia held their annual Hiking Summit here in the Municipality of Chester.  Oak Island Resort makes the perfect spot for any convention, and naturally we were over the moon when this year's attendees made the hike up to the top of our very own Castle Rock.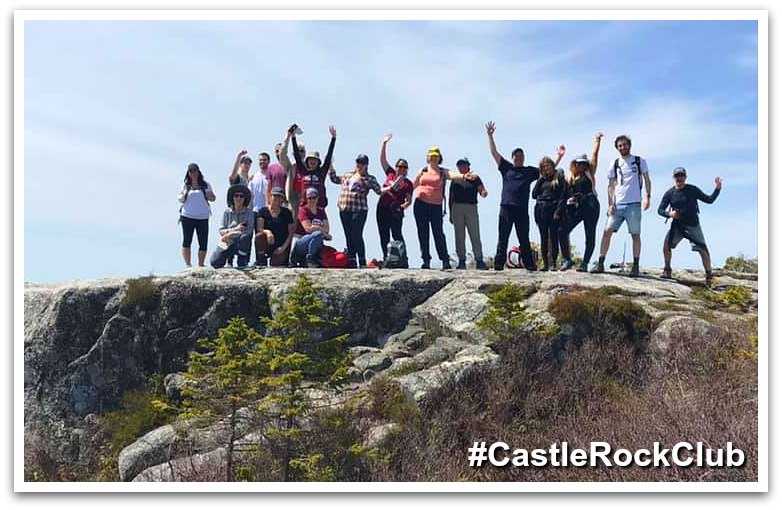 The weather was wonderful, the smiles were big and the view was spectacular.  Thanks for sharing this awesome shot gang - we happily welcome the lot of ya to the #CastleRockClub!!!

VINCE FORRESTALL - Halifax, Nova Scotia
How cool is this?! We're thrilled to welcome the president of Hike Nova Scotia, Vince Forrestall to the #CastleRockClub. This fella has hiked all over the world so to have him rate this climb "Spectacular" and "Highly Recommended" we're downright flattered.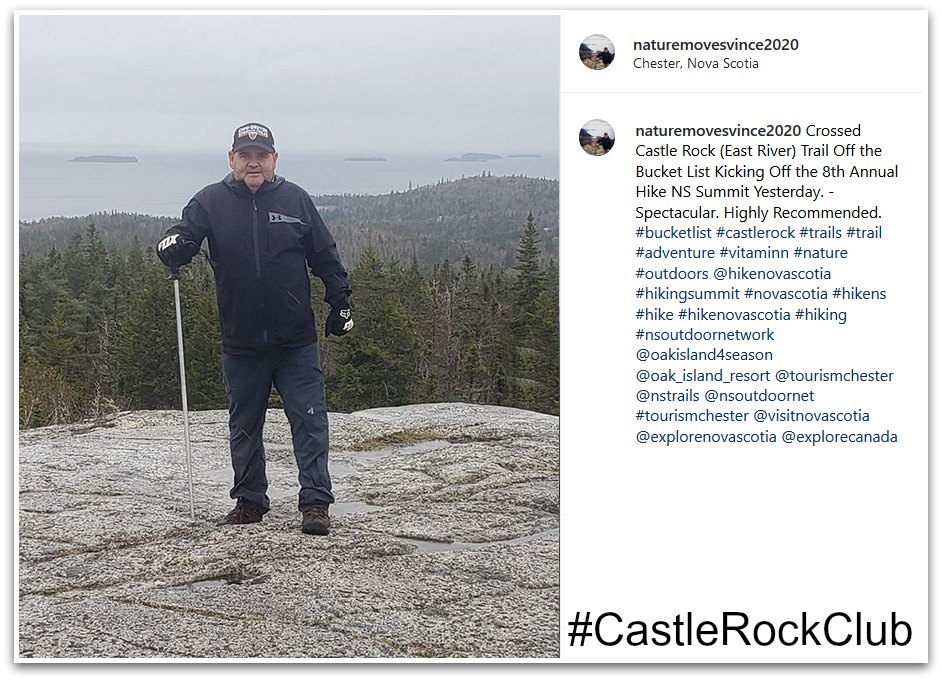 ps - we love what you did there Mr.Forrestall - 'Highly Recommended'....hilarious sir!!!

KAYLA SISCO - Halifax, Nova Scotia
We can tell from Kayla Sisco's Instagram posts - she loves getting outside and taking in everything nature has to offer - especially here at home in Nova Scotia, so we're super happy to have her add Castle Rock to her long list of outdoor adventures.
Views like this really are worth seeing - no matter the season! Happy spring Kayla Sisco and welcome to the #CastleRockClub!!!

SHANE NAUSS - Sackville, Nova Scotia
Canaan, Nova Scotia native Shane Nauss always looks to make the most of every moment duiring his weekends off.  That includes heading down the South Shore from Sackville to explore all there is to see and do here in the Muncipality of Chester.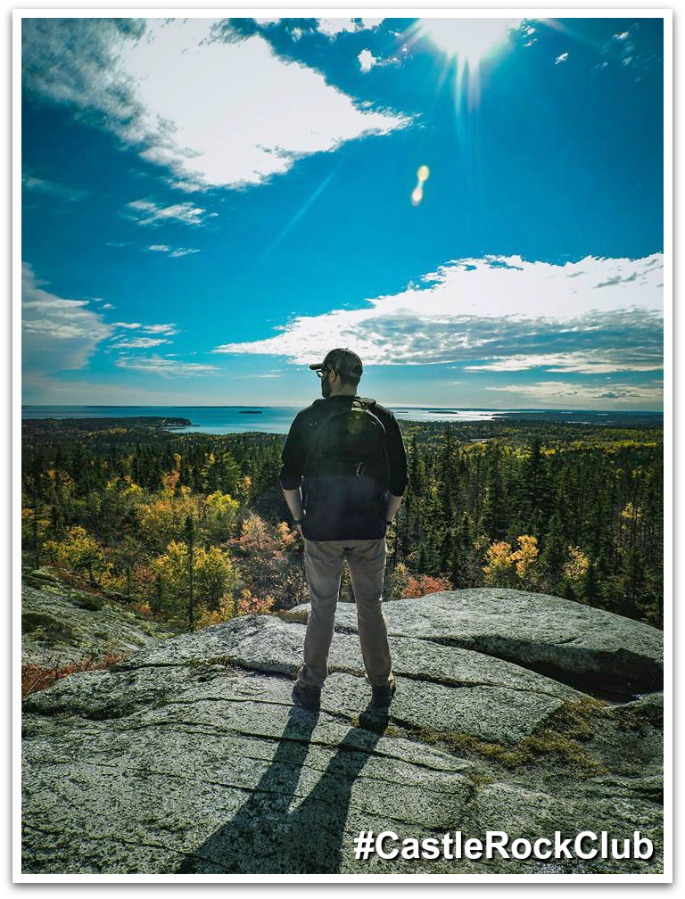 Shane's view from the top of Castle Rock in fall is stunning - but check his social media streams and you'll see he's always tagging us with his truly cool outdoor adventures no matter the season. From kayaking in the summer, to snowmobiling in the winter, and hiking all year round.  Thanks for including us in all the fun Mr.Nauss and welcome to the #CastleRockClub!

TERRI LYNN KEARSY - Dartmouth, Nova Scotia
Always a fan of great adventure - TV Producer and Host Terri Lynn Kearsy was quick to climb Castle Rock this summer.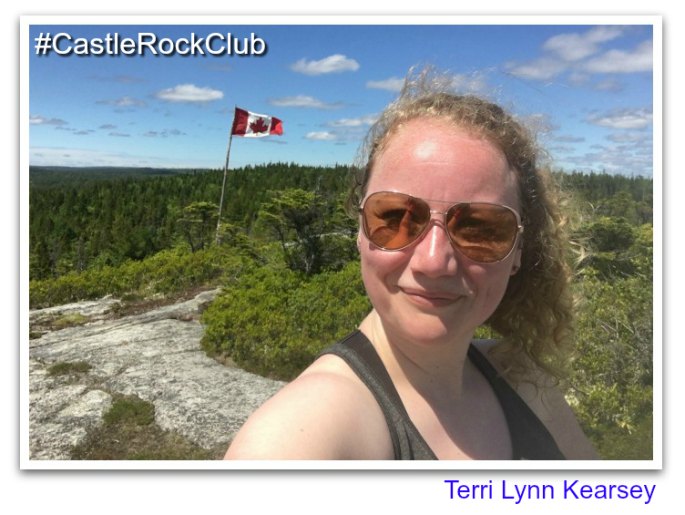 Naturally Terri Lynn took some friends along to enjoy the spectacular view...and they loved it!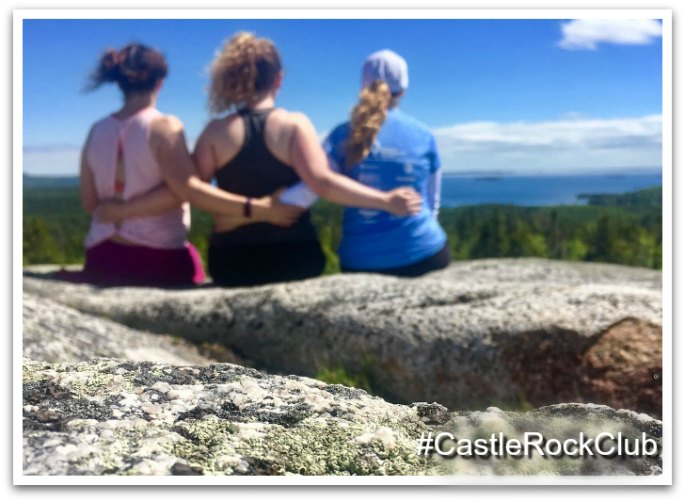 In fact she snapped this sweet pic of pals Jennifer Robbins and Rayna Smith-Camp - jumping for joy at the end of their hike.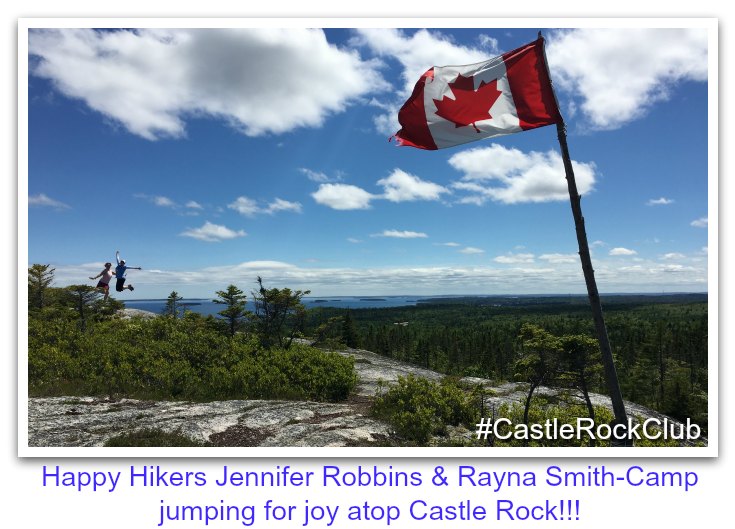 Thanks for sharing the shots Terri Lynn and way to go ladies - welcome to the #CastleRockClub!!!

KAREN SNAIR - Chester Basin, Nova Scotia
So great to get these shots from Karen Snair who shares  "we have been hiking Castle Rock twice yearly for the past three years."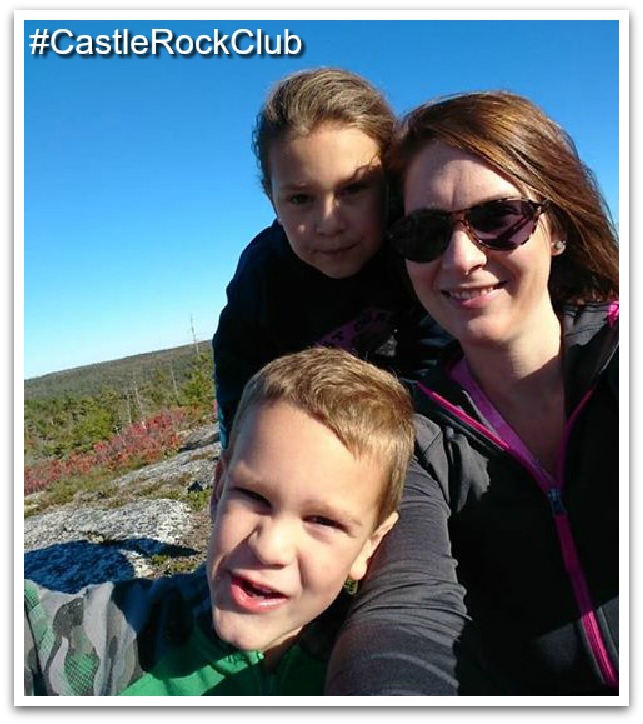 Karen's daughter Avery and and son Rowan are constant companions.
But every now and again a little solitude goes a long way!
Thanks for sharing the shots Snair Family and welcome to the #CastleRockClub!!!

ERIN LOWE - Mill Cove, Nova Scotia
If you're saying to yourself..."this lady looks super familiar" - that's because this lady - our very own Erin Lowe - was featured in the South Shore promtional video on top of Castle Rock sporting this very cool toque.  Yes - in the video it did look a little like a helmet - but this picture is to proof that indeed - it was a toque.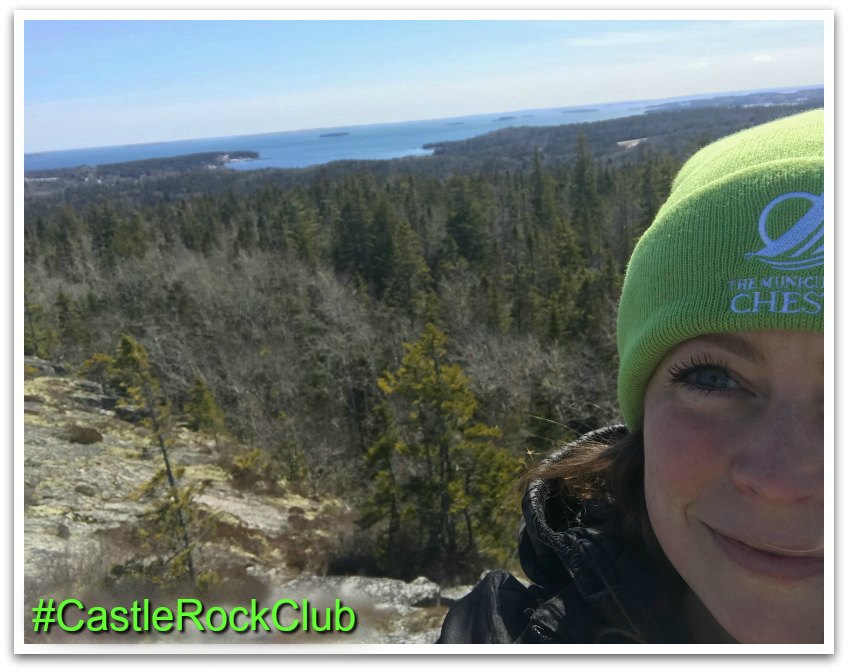 Thanks to Ms.Lowe for sharing the shot - so great to include you in the #CastleRockClub.

CHAD HAUGHN - West LaHave, NS
You had to know this guy was a lock for membership!  As the Director of Recreation and Parks for the Municipality Chad Haughn knows a great adventure when he sees one!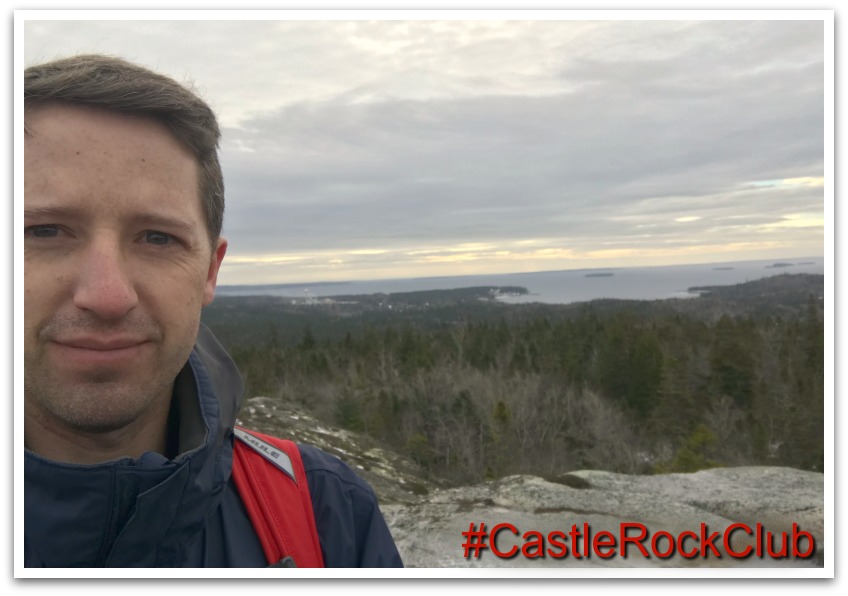 And in the Haughn household adventure is a family affair!  Chad, his wife Amie and their daughter Zoe are always up for a great hike and the backdrop can't be beat!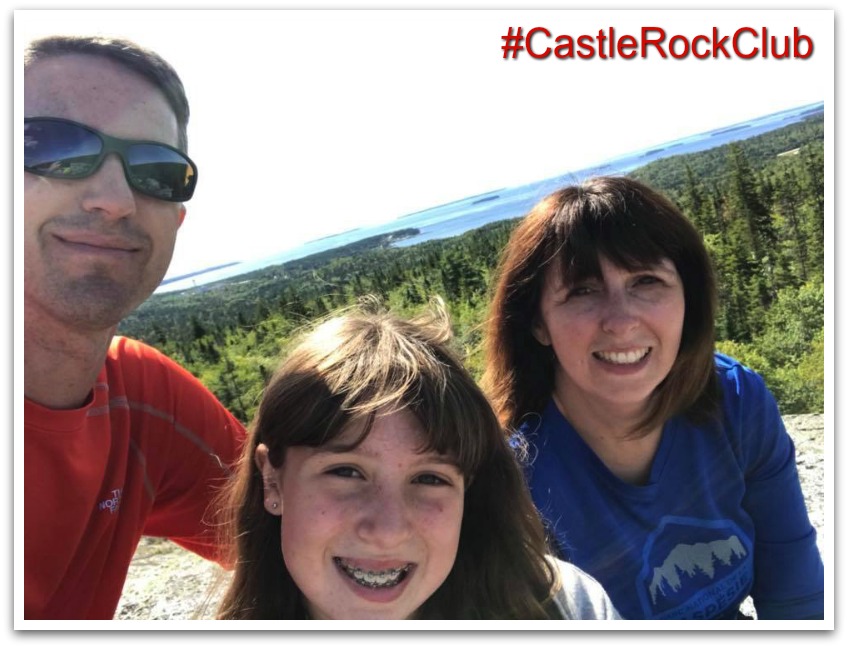 They know the challenge of the climb and the really rewarding rest at the top... and did we mention the view?!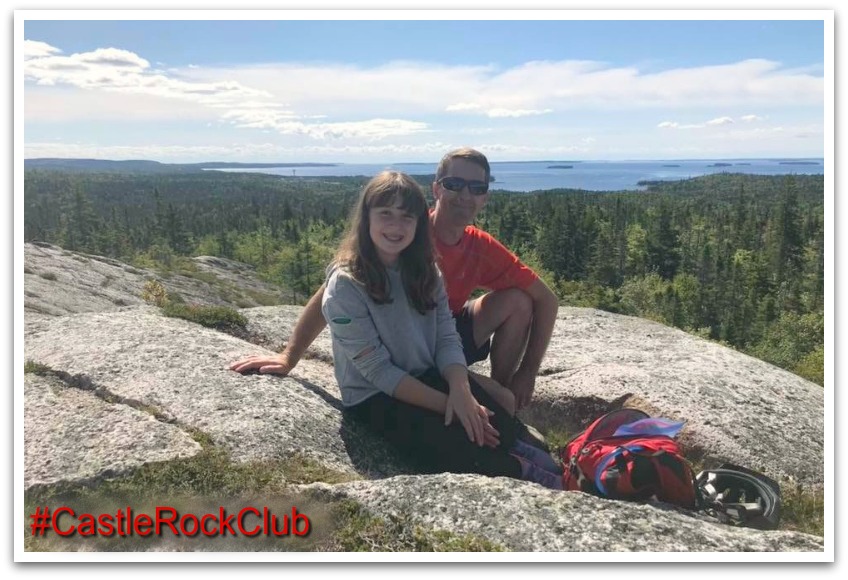 Here's to all the Haughns on all of your many hikes - and cheers to the lot of ya on joining the #CastleRockClub!!!

MARTIN E. BELL - Municipality of the District of Lunenburg (Bridgewater)
We're always so happy when the neighbours drop by - and how cool is this?!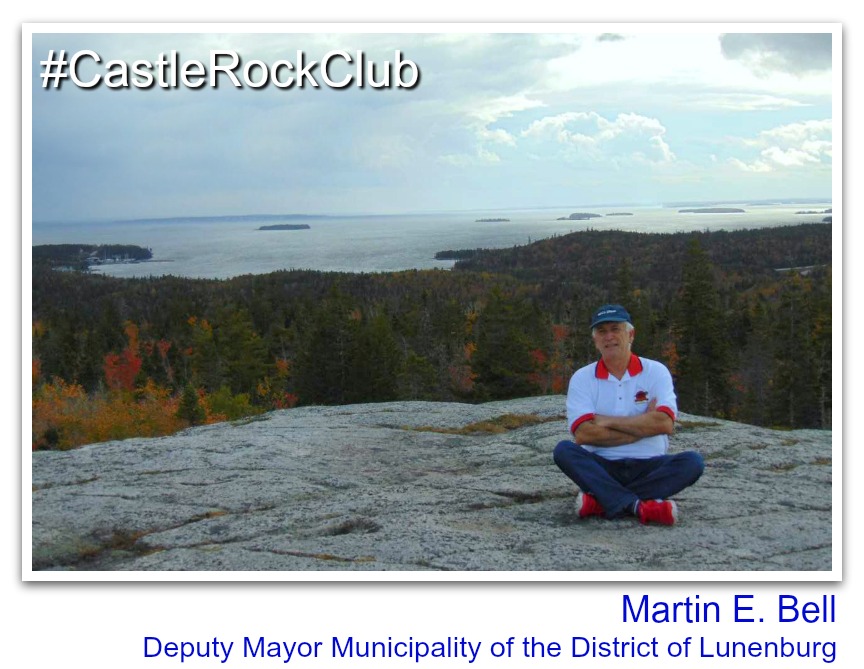 That my friends is Mr.Martin E.Bell the Deputy Mayor of the Muncipality of District of Lunenburg perched proudly atop Castle Rock. 
It was lovely to receive his picture along with a note that read...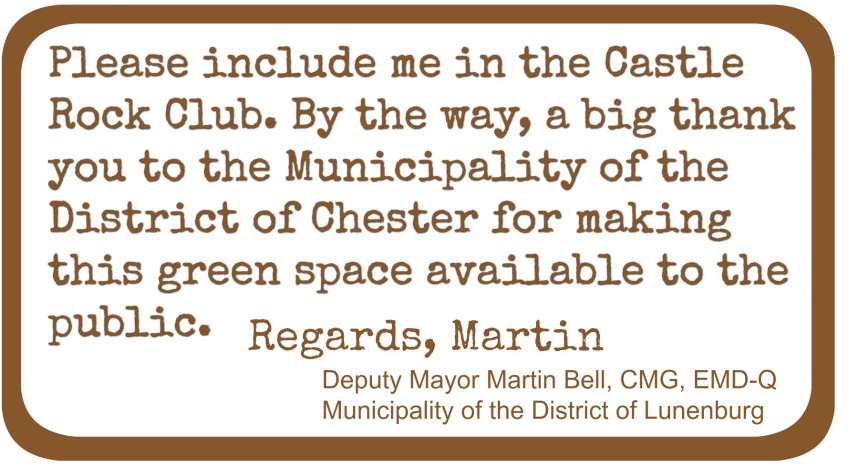 You're very welcome Mr.B and consider yourself officially added. Please pop back around anytime sir and welcome to the #CastleRockClub Mr.Bell!!!

Cheryl Bell - Conquerall Bank, NS
So wonderful to add this spirited climber to the club.  Grateful to Cheryl Bell for sending in this shot with a note that read...
"We did not let a little rain discourage our challenge of climbing Castle Rock. What a nice property to protect. Thank you Municipality of Chester."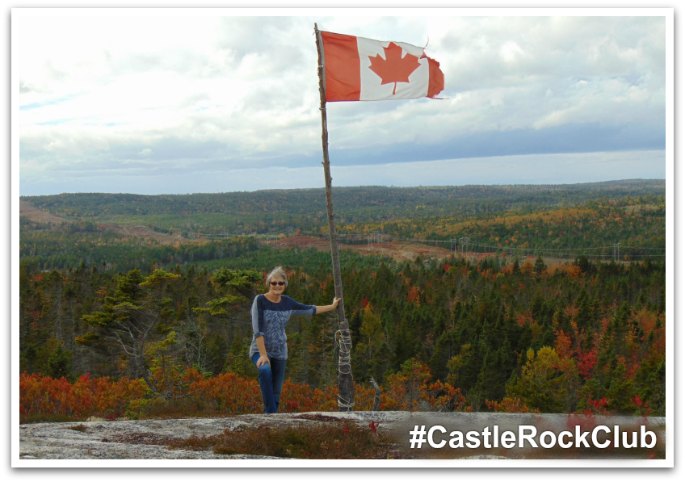 .
You're very welcome Cheryl and weclome to the #CastleRockClub!!!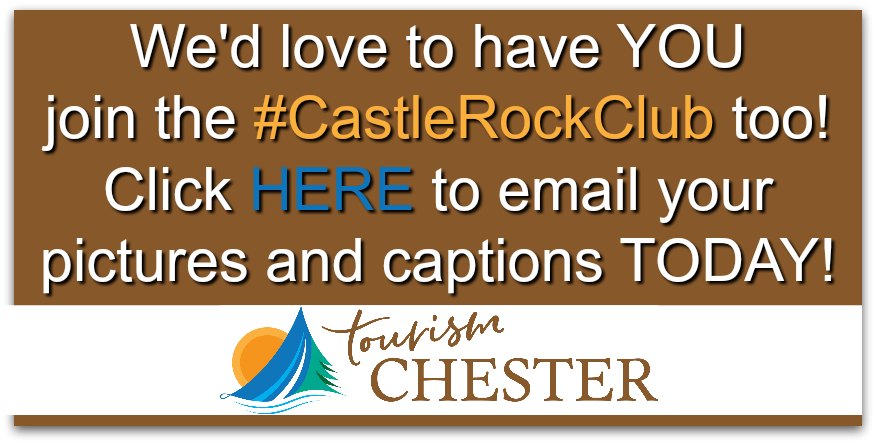 BE SURE TO ENJOY - A TICK FREE - ADVENTURE OUT THERE!!! 
Please watch this helpful video and beware...