Municipality of Chester
"Art enables us to find ourselves
and lose ourselves at the same time."
Thomas Merton
Once you arrive in the Municipality of Chester – you'll see it. Inspiration is everywhere.
We invite you to discover the works of our artists and artisans in galleries and shops. To witness their wonderful creations – paintings, photography, pottery, hooked rugs, sculptures, jewellery, ironworks, woodworks, glassworks and more.
We'd be so happy to see you take home and treasure their creations – and maybe – just maybe, you'll be inspired to create a little art of your own while you're here.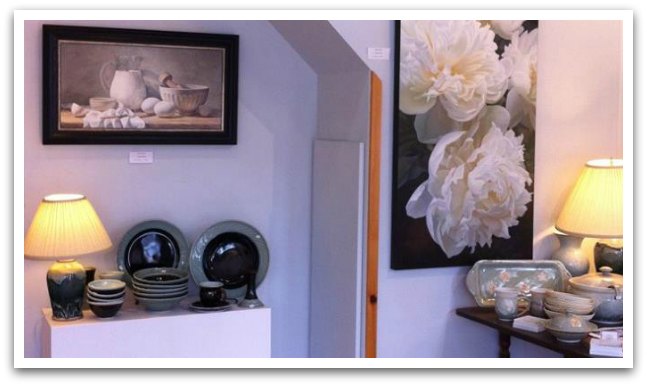 The gallery hosts a collection of Fine Art & Fine Craft - all handmade predominantly in the Maritime provinces.  Paula MacDonald, the gallery owner, makes the pottery in her studio at the Gallery. 'Amicus' is Latin for friend - a perfect name for the Gallery as it truly represents a gathering of the work of many of Paula's gifted friends. For more visit amicusgallery.ca
ASPOTOGAN ARTS AND CRAFTS - Aspotogan


The Aspotogan Arts & Crafts are a non-profit volunteer group formed in the year 2000 with the goal of exploring professional development, promotion and exhibition possibilities, and mutual support for artists working in the Aspotogan area of Nova Scotia. Our members work in a wide variety of arts and crafts including painting, rug hooking, wood working, sculpture, fibre arts, pottery and photography. ​ Aspotogan Arts & Crafts organizes annual shows that attract a growing number of visitors, and participates in several art exhibitions and events in the greater community.  In addition, they sponsor artist talks and workshops (open to both members and non-members). The Aspotogan area has become a destination of choice for artists, the spectacular natural beauty of the area being complemented by its wealth of artistic activity. For more on the group and their artists visit aaandc.org
BARBARA O'NEIL FINE ART - New Ross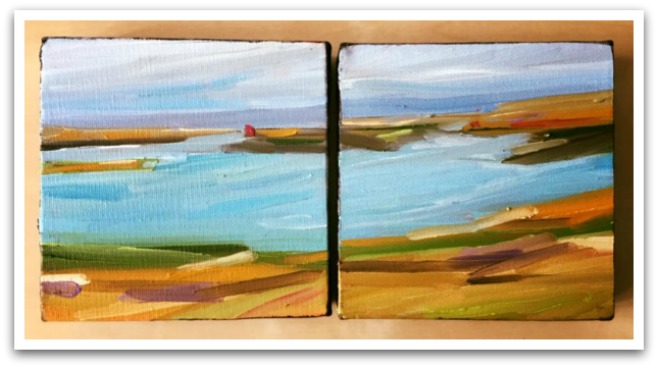 With a focus on oil paintings on canvas in a wide variety of sizes - artist Barbara O'Neil specializes in seascapes and landscapes - often abstracted but always impactful. Set on a small farm in New Ross, O'Neil's gallery shares its space with a little shop on The Roundway Farm selling their handmade soaps, creams and floral products created from what they grow right there. Barbara is also available for commissioned projects. For more information visit her Facebook Page or call 902-689-2001
BLUE SHUTTERS ART GALLERY & ANTIQUES - East Chester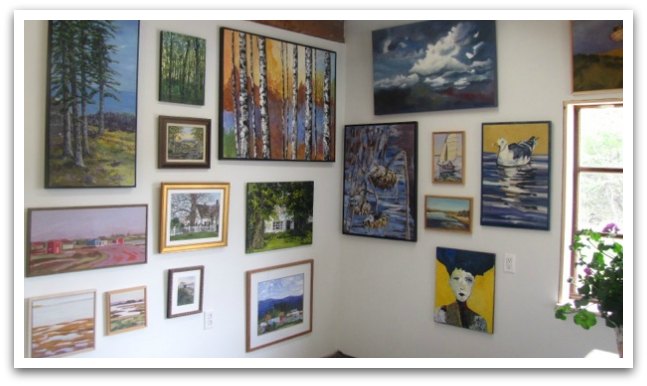 In addition to it's great selection of antiques, collectibles and vintage decor, Blue Shutters showcases the work of 8 local artists who completely capture the beauty of life here on the South Shore and beyond.  For more visit blueshutters.ca
CENTURY HOUSE POTTERY AND GALLERY - Blandford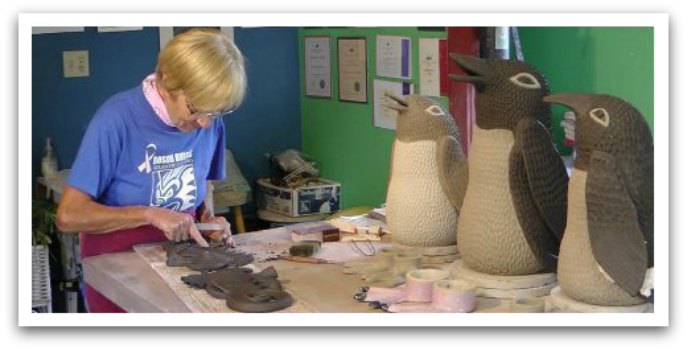 One look a Mieke Martin Soontiens studio and you'll see she's surrounded by inspiration.  From her view of the ocean along the Aspotogan Peninsula, to the lush and lovely gardens she designed, to her wonderful Century House Bed and Breakfast which she runs with her husband David - all of it blends beautifully into Mieke's imaginative works. Her gallery features a large selection of hand thrown, functional stoneware pottery and whimsical sculptures for home and garden. For more on here wonderful work, studio and gallery click here.


World class fused glass. Absolutely original one-of-a-kind brightly coloured fused glass dinnerware, accessories and gifts. Kiln Art is collected around the world by individuals attracted to its vibrant, rich colours and unique designs. Each piece is handcrafted from the first cut to the final finish and is signed by the artist. For more visit kilnart.ca
CREATIVE SQUIRREL ART - Simms Settlement/Hubbards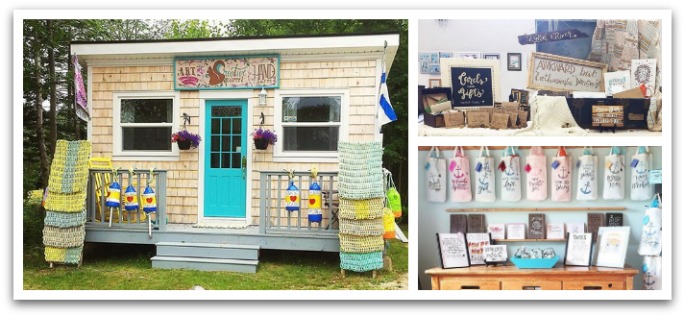 Artist and owner Brenda Theriault welcomes you to her tiny shop that's BIG on creativity. Delightful artwork and hand crafted items - drawings, hand lettering, bookmarks, notecards, notebooks, magnets and more! Located right along the lighthouse route between Chester and Hubbards!! For more information follow her on Instagram.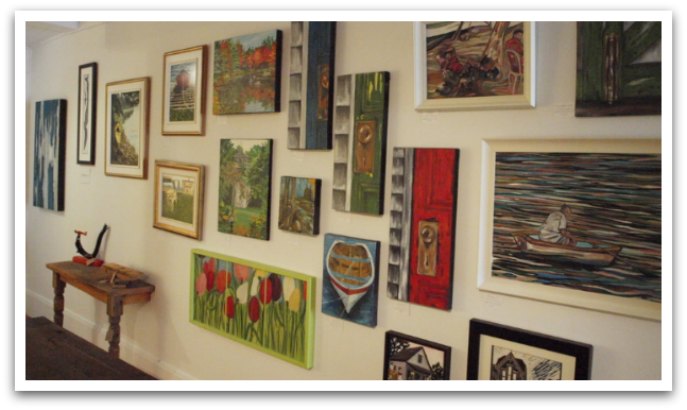 In addition to their wonderfully designed line of reclaimed furniture, Going Coastal's gallery carries a curated collection of Fine Art, Furnishings, Home Décor, Crafts, Jewellery, and Apparel. With a keen eye for unique pieces that are often limited edition or one of kind pieces - you're sure to be captivated with their offering 100% created by Nova Scotia artists and crafters. For more information visit goingcoastalns.com
GOEDE VIBES - Chester Basin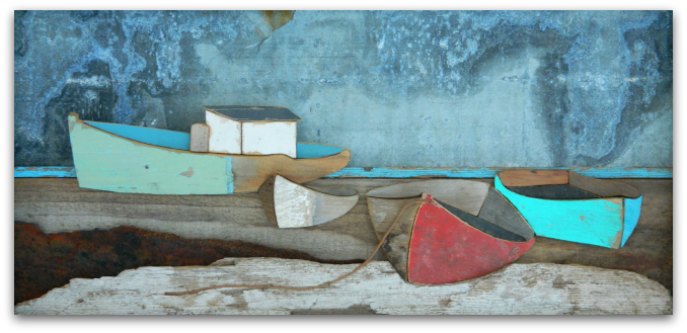 Recycled & Earth-friendly art - Goede Vibes features one-of-a-kind handmade recycled art, photography, jewellery, cards, felted items, colourful toys (and more) made by a truly creative couple, Nova Scotia's Mike & Sherry Goede. Born and raised in Holland, Mike studied photography at the School of Arts in Utrecht. He met his Canadian wife Sherry while traveling in Nepal. In 2005 they moved to Nova Scotia to raise their young family. In his new surroundings. Mike finds inspiration in the small villages and rocky harbours along the Atlantic coast. Fascinated by early morning light, his simple compositions have a serene stillness that capture the raw beauty and heart of his new home. For more on their work, studio, and Farmers' Market shopping visit their Facebook page here.


A feast for the eyes and the soul, Jim's gorgeous pottery is a delight to display and a joy to use.  Jim is widely recognized as one of Canada's most acclaimed contemporary ceramic artists.  The showroom shelves in his charming studio are brimming with luscious and lyrical vases, platters, bowls and serving dishes. For more visit jimsmithstudio.ca
SCOTIAN IRONWORKS - New Ross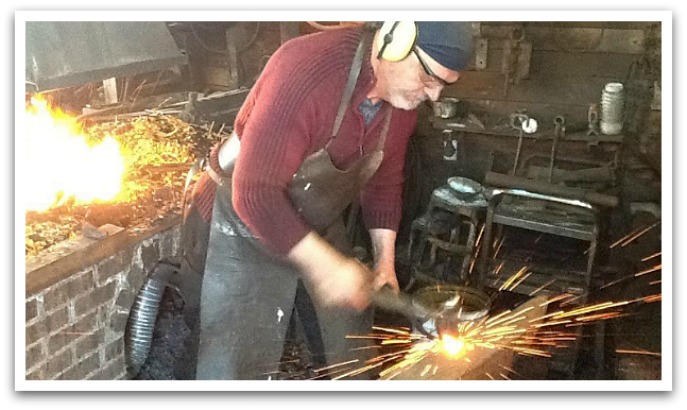 Blacksmith and artisan Scott Hamlin has the ability to put commonly used items to an artistic expression, or bring your ideas to life.  Scotian Ironworks can use your ideas in the creation of your very own customized metal work. For more visit scotianironworks.com
STATION 20 CRAFT SHOPPE & MUSEUM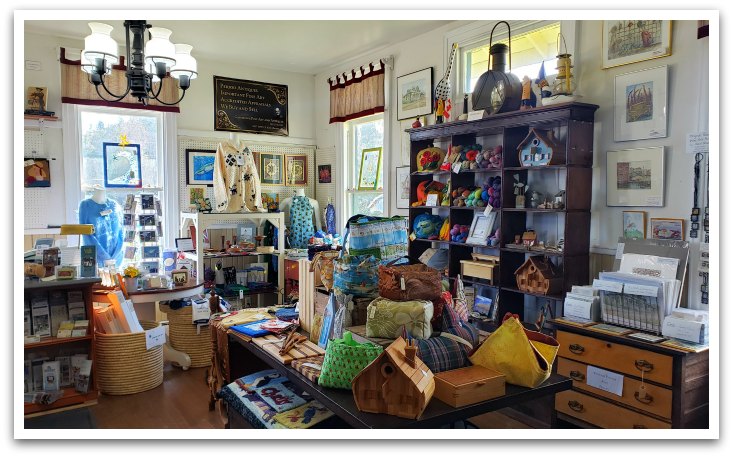 This cultural craft store includes works from 30+ local Nova Scotian Artisans and Crafters whose unique skills and abilities are shown in their works. A small portion of the proceeds are used to operate and maintain the Chester Train Station, while the vendors receive a majority for the fruits of their labours. With gracious donors, vendors, and volunteers, the Chester Heritage Society continues to provide an enjoyable environment for our patrons. For more information visit their Facebook page.
THE GLASS BAKERY - Mill Cove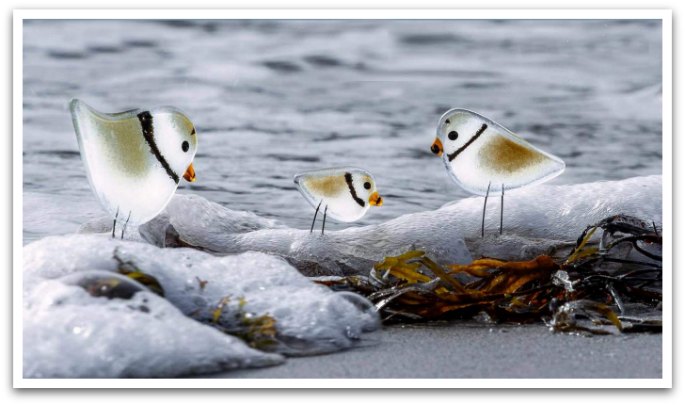 The Glass Bakery creates the essence of nature! Each bird is unique, simply and beautifully capturing the essence of friendly bird faces that greet us each day! From the resident chickadee to our visiting Hummingbirds, The Glass Bakery creates a range of unique and varied coloured birds to capture your eye and your imagination. The birds perch in driftwood collected from the shores of Atlantic Canada or attractive Live-Edge Bark Slices hand-harvested from the Forest. For more information visit theglassbakery.ca