Nova Scotia Lobster Crawl
 
The Nova Scotia Lobster Crawl festival takes place annually every February at the peak of the Lobster Season along the entire South Shore from breath-taking Peggy's Cove all the way to Barrington, the Lobster Capital of Canada, and every port in between. And you better believe that includes the Municipality of Chester – where you're sure to find all kinds of lobster-infused fun. Check out what we've got in store for Nova Scotia Lobster Crawl 2020.
Our Signature Event  FOR THE LOVE OF LOBSTER 2020 Sunday, February 9th from 12noon to 4pm at Forest Heights Community School, Chester Basin
Once again we're teaming up with the gang from Oak Island Resort & Conference Centre for our annual celebration of the entire Municipality of Chester (that's 36 communities).  An event that brings together everyone from community groups and restaurants, to local businesses and independent crafters/makers – all waving the fun flag – so that anyone who attends will leave being wowed by all we have on the go! This year's event includes a Municipal Market with 40+ Vendors, Kindred Spirits' Sampling, a Silent Auction, an expanded Kids Zone (featuring Ross Farm Museum with Hands On Activities, Make & Take Crafts, the Lobster Pound Play Ground & MORE), East Coast Music with COVE FM and the tastiest bit – our 2nd Annual Lobster Chowder Chowdown Showdown! For more details visit our Facebook event page here.
With plenty MORE events happening ALL month long including...
Sculpt the Lobster – February 1 – 28 – Hubbards & Area
The Hubbards & Area Business Association is holding a Lobster Sculpture contest in February as part of the Lobster Crawl Festival and you're invited to participate! Use your imagination to create any "Lobster Themed" sculpture Use Snow, Ice, Sand or any combination of the three The bigger, the better. Brilliant colours are encouraged Open to all businesses, residents or groups in the area from Black Point to East River and around the Aspotogan Peninsula. Create your masterpiece and submit a photo (with your name, address and phone #) to contact@hubbards.ca by February 28th. Three prizes will be awarded to the most creative creations Winners will be announced on February 29th. For more details click here.
Open Studio for Families at the Chester Art Centre – Every Saturday – Village of Chester
Drop by the Chester Art Centre and get creative with a new hands-on project every week – from wind catcher to a crazy crustation (Feb 15th), play with paint, work with clay and so much more. Every Saturday in February from 9:30am to 12 noon. Art facilitators and volunteers are on hand to assist and all art materials will be supplied. Just $5 per family per week. For more details call 902-275-5789 or visit their official website here.
Cinema Sundays at the Chester Playhouse Theatre – Village of Chester
Take in everything from comedy classics to Oscar Contenders as the Chester Playhouse screens 2 matinees every Sunday afternoon.  You'll be delighted to find one or two with their own lobster-themed scenes! Tickets are only $10 and are available at the door. For all the details on what's playing when visit their Facebook page here
Taps & Traps – Friday, February 7th - Village of Chester
Crawl to Tanner & Co on Duke in Chester for our take on a lobsterrific happy hour. Enjoy 5 Tanner & Co beers paired with lobster appetizers created by Chef Nathan Guggenheimer of Oak Island Resort. You'll love the local brews created by brew master, Dan Tanner. Mingle with friends, the chef and brew master to chat about where they draw inspiration. They'll pull the traps & have the best brews on tap. There are 2 seatings set for 3 – 6pm and 7 – 10pm. For more info visit their event page here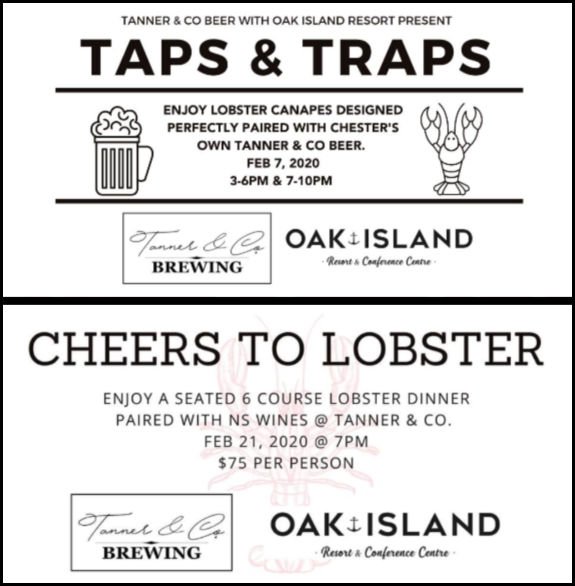 Cheers to Lobster Dinner – Friday, February 21st – Village of Chester
Reserve your spot in the cozy surroundings of Tanner & Co on Duke in Chester for a scrumptious six course lobster filled dinner designed by Oak Island Resort's Chef Nathan Guggenheimer. Each course is perfectly paired with delicious wines by local sommelier and brew master, Dan Tanner. For more info and tickets visit their Facebook event page here.

Community Lobster Supper – Saturday, February 22nd – Village of Chester
In celebration of the arena's 50th Anniversary and the amazing plans underway to re-imagine Charles E.Church Park (aka: The Park - District of Chester's Recreational Centre) The Park team is hosting a traditional and tasty Lobster Supper including a lobster ( 1-1/4 lbs), salads, desserts & beverages. First seating runs from 2-4pm and the second from 5-7pm at the Raven's Roost. Tickets are $30 available at these locations and are available in advance at Chester NAPA, Chandler Davis, Pharmasave in Chester, Hubbards and Chester Basin. For more information visit their event page here.
Ross Farm Museum - Weekend Programs - New Ross
Step back in time at Ross Farm Museum as they host wonderful workshops every weekend in February (on both Saturday and Sunday) with special events planned for Nova Scotia Family Day on February 17th as well. Everything from rush chair seating to open hearth cooking. For a full list of events, details and times visit their official website here
AND IF IT'S LOBSTER YOU'RE LOOKIN' FOR...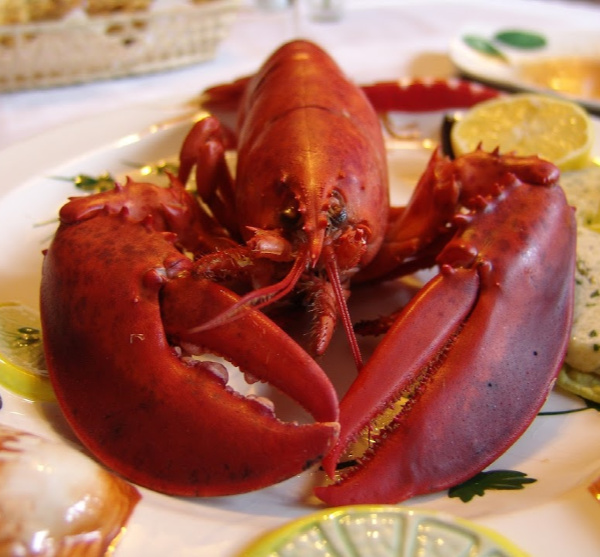 You'll find ALL kinds of LOBSTER on the menu at restaurants all over the Municipality of Chester – all month long. The following is a list of those super spots to eat who'll be featuring crustacean sensations on their menus throughout the month of February. Just click for links to our restaurants in our Dining feature page here.
Featured on the LOBSTER ROLL trail – Chester's Cafe, The Kiwi Cafe, The Fo'c'sle Tavern, The Gold Bean Cafe
Featured as having Special LOBSTER DISHES – Chester's Cafe Daily Lobster Quiches Brunches, The Stretch Lobster Features Daily, The Fo'c'sle Lobster Features Daily, The Gold Bean Cafe Lobster Features Daily, The Kiwi Cafe Lobster Features Daily, The Savary Plate (formerly 4 Way Stop) Lobster Features Daily
2020 will mark the festival's third year in operation, proudly developed and presented by the South Shore Tourism Cooperative. For more info on the over 150 fun events and overnight packages created in celebration of Nova Scotia's Nova Crawl 2020 visit their official site at festival.lobstercrawl.ca