Ambassador of Buzz Businesses
Our #LOVEwhereyoulive campaign is underway and it's being driven by the good people who make the Municipality of Chester their HOME.  Because - really - who better to tell us what makes a community so special than the people who live there?!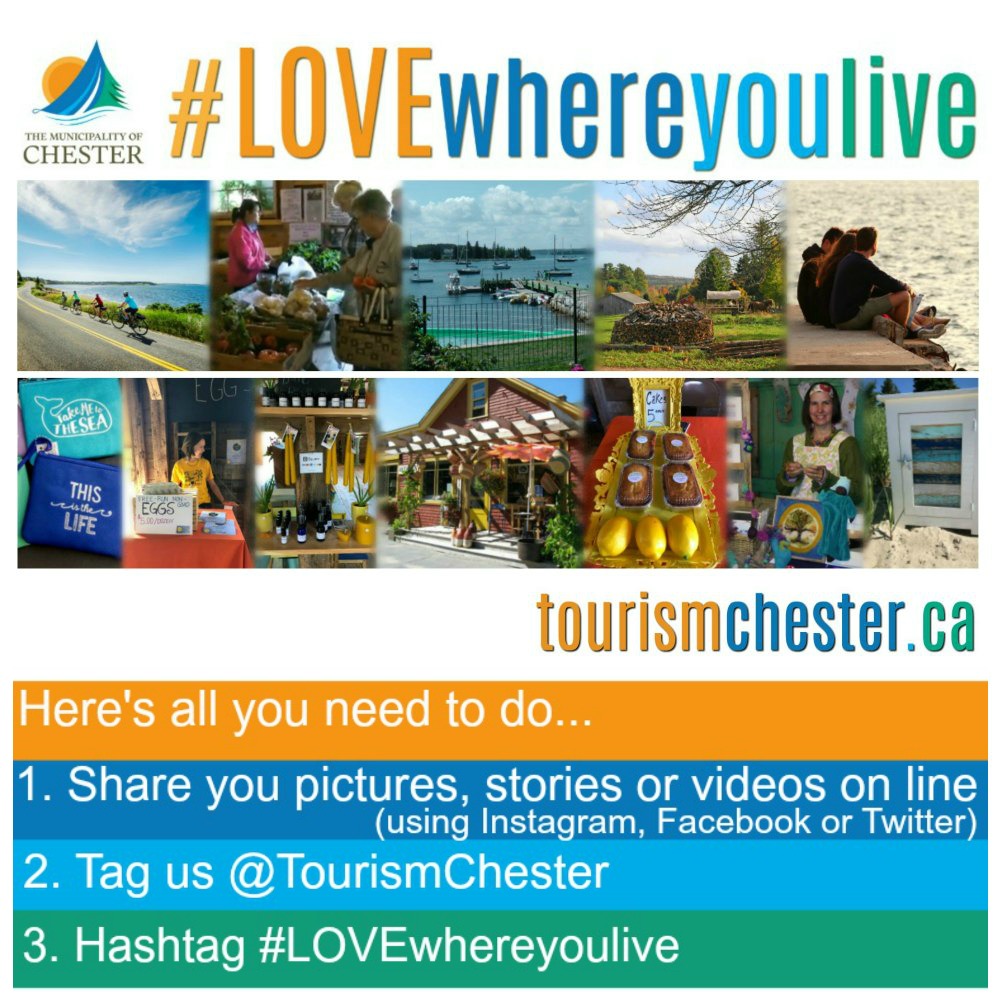 By sharing a story, picture, video, and/or post online - through our website or by tagging @TourismChester #LOVEwhereyoulive on social media - residents of our municipality will be eligible for our monthly random draw for the Ambassador of Buzz VIP Card.
The winner of which will receive 10% off ALL of our awesome participating Ambassador of Buzz Businesses for the ENTIRE month. With their special VIP Card each Ambassador of Buzz can shop, play, dine and stay throughout the Municipality of Chester like never before – enjoying their VIP discount wherever they go!
We LOVE all of our Ambassador of Buzz Businesses - they making winning WONDERFUL!!!
What follows is our list of participating businesses to date - and the list is growing everyday!
If you would like to join in the #LOVEwhereyoulive fun and become an Ambassador of Buzz Business please EMAIL sbeaumont@chester.ca or CALL Stephanie Beaumont 902-277-1345
Chester Car Wash - Chester
Jesmisvals Store - Western Shore
STAY TUNED FOR MORE!!!
PLEASE NOTE...
Each of our Ambassador of Buzz Businesses will offer 10% off with their own respective restrictions.
Only the AMBASSADOR OF BUZZ VIP card will be considered to be proof of being the AMBASSADOR OF BUZZ and must be presented in order to receive the 10% off at participating businesses, however participating businesses reserve the right to ask for a secondary piece of ID to ensure ONLY that month's WINNER can claim the discount. 
The AMBASSADOR OF BUZZ VIP card is non transferable and is only valid for the month issued/appearing on the card. 
The AMBASSADOR OF BUZZ VIP card has no cash value.
Months are based on calendar days and are not to exceed the last day of the month. The AMBASSADOR OF BUZZ VIP card is therefore valid only for the month in which it is issued.
Due to seasonality some of our AMBASSADOR OF BUZZ BUSINESS may be closed and therefore no discount can be appreciated in that month.  Please click on there name above to ensure they are open during your WINNING month.  
If you have any further questions or concerns please EMAIL sbeaumont@chester.ca or CALL Stephanie Beaumont 902-277-1345